Charlotte Termite Control
Professional Termite Solutions in Mecklenburg County, Concord, Locust, Mooresville, & the Surrounding Areas
A termite infestation is something every homeowner fears, and for good reason – these small creatures can form large swarms and eat away at the essential structures of your home, putting your family at significant risk.
City Wide Exterminating, Inc. is a woman-owned, family-owned termite control team that can help you deal with this worst-case scenario.
Our convenient, affordable termite control services can be booked entirely online, and appointments are always available within 24 hours.
We want to make sure that your home and your loved ones can not only recover from a termite invasion, but prevent future infestation through preventative treatments.
If you have a termite problem, our experienced Charlotte technicians can be at your door within 24 hours to deliver fast, effective solutions. Call (704) 850-6091 today to get started with a free estimate!
How to Tell if You Have Termites
Americans spend an estimated $5 billion a year on termite damage repair and control, and in North Carolina, subterranean termites are the main perpetrators of this costly damage.
Termites are small insects that like to stay hidden in your walls, floors, and foundation. While they do occasionally make themselves visible through swarming, by the time a colony is large and established enough to exhibit swarming behavior, they've likely already done a significant amount of damage.
The earlier you spot a termite infestation, the easier it is to exterminate it and the less damage you'll have to deal with. Learn to spot the more subtle signs that a termite colony has made itself at home, and call our team right away to evict them ASAP.
Watch out for warning signs like these:
Small holes in drywall
Discolored, drooping walls or peeling wallpaper
Loose tiles
Crumbling or visibly damaged wood structures
Wood structures that sound hollow when tapped or knocked on
Uneven or bubbling paint
Strange, maze-like patterns carved into your furniture, floorboards, or walls
Squeakier-than-usual floorboards
Mounds of what looks like salt or pepper, but are actually termite pellets
Shed wings that resemble fish scales
Mud tubes in your foundation
What Do Termites Look Like?
White, dark brown, or black in color
Workers and soldiers are between ⅛ and ⅜ of an inch in length
Thick waist with a straight antenna
Sometimes winged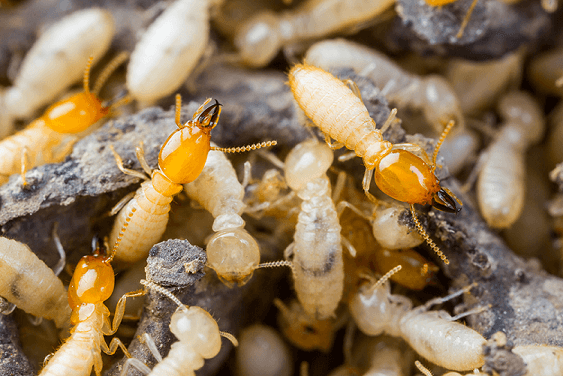 Damage Termites Cause
Subterranean termite colonies can eat up to five grams of wood each day, which is equal to around 2.5 feet of wood each year. Over a period of years, this can lead to serious structural damage and even collapse, and due to termites' unfortunate ability to destroy wood quietly, infestations can go on for years without being noticed.
How You Could Be Attracting Termites
Moisture and humidity are caused by poor drainage, leaky pipes, or lack of airflow.
Wood- such as bushes, firewood, or mulch is too close to home foundations.
Cracks in house foundations, windows, or doors that act as an easy entry-point for termites.
What to Do If You Have Termites
Termites are not the sort of problem that you can take care of on your own. Proper treatment requires the handling and placement of baits and insecticides that are best left to our Charlotte termite control professionals.
With City Wide Exterminating, you have access to the two highest quality products on the market:
Termidor (liquid)
Sentricon (bait)
Less than 10% of pest control companies are certified to offer both liquid and bait products. City Wide is one of them. Our pest specialists will assess which treatment best suits your environment.
We guarantee to protect your home from termites, and are so confident in our services that should termites come back, we'll return to re-treat and repair any damage caused with our optional $1,000,000 damage guarantee.
Why You Should Take Termites Seriously
It's common knowledge that termites destroy your floors, walls, foundation, and furniture, but that's not the only thing you have to worry about. Like other pests, termites can carry diseases into your home, and certain species can even bite or sting your loved ones.
Additionally, termite activity can increase the amount of moisture within your home and cause water damage, a complication that most people don't expect.
Dangers associated with termite infestations include:
Allergens like dust and wood pollen produced by their feeding habits and nests
Increased risk of mold infestation
Damage to floors, furniture, and doorframes
Foundation damage
Structural instability
Water damage from increased moisture levels termites bring with them
We'll Protect Your Family
Looking for a safe, speedy way to get termites out of your home in Charlotte? Interested in learning about preventative treatments that can keep termites away from your property? Let us help! Our team is highly trained, extensively experienced, and always available to help you deal with any termite-related issues.
City Wide Exterminating, Inc. specializes in protecting homes and families in Mecklenburg County, Concord, Locust, Mooresville, and the surrounding areas from the dangers posed by termites. Call (704) 850-6091 or reach out to us online to learn more about our termite services and schedule your appointment!
"My mom started using City Wide over 20 years ago so when we bought a house, they came just to do a sort of maintenance to keep bugs from coming. We have never had an issue and City Wide is a big part of that."