Bed Bug Exterminator in Charlotte, NC
Helping Customers in Mecklenburg County Sleep Easier
Sleep is an important part of our lives. But while we sleep, bed bugs may crawl out of their hiding places to feed on us, leaving us to deal with the itchy bites that appear in the morning.
If you suspect that your bedroom has become a feeding ground for these pests, City Wide Exterminating has your back.
Our woman-owned, family-owned pest control team has years of experience dealing with bed bugs. We'll happily provide you with a safe and effective bed bug treatment plan tailored to the needs of your family.
We offer free estimates and online booking for your convenience, and our Charlotte bed bug exterminators can be at your door within 24 hours to make your home safer ASAP.
---
Are you worried about bed bugs in your home? Call our Charlotte bed bug exterminators at (704) 850-6091 today for professional advice and a free estimate!
---
How Do You Know if You Have Bed Bugs in Your Home?
Bed bugs are one of the most common (and one of the most feared) pests in North Carolina, and here in Charlotte, we're not immune.
Do you have bug bites on your body, but aren't sure if bed bugs are to blame? Look for signs of the bugs themselves. If bed bugs are the cause of your discomfort, they'll leave evidence behind. When you spot the warning signs of a bed bug infestation, let us know, and we'll kick out the unwanted guests that have made themselves at home in your living space.
Symptoms of a bed bug infestation include:
Spots of blood or bed bug droppings on your sheets or mattress
Shed skins or eggshells
Persistent musty odors
Small, red, itchy bites on your hands, arms, and legs, often clustered in groups of three or four
What Bed Bugs Look Like
Adult bed bugs are oval-shaped, wingless insects that are brown in color. In adulthood, they measure between 4mm-5mm in length. Nymphs (baby) bed bugs are much smaller and can be difficult to see with the naked eye.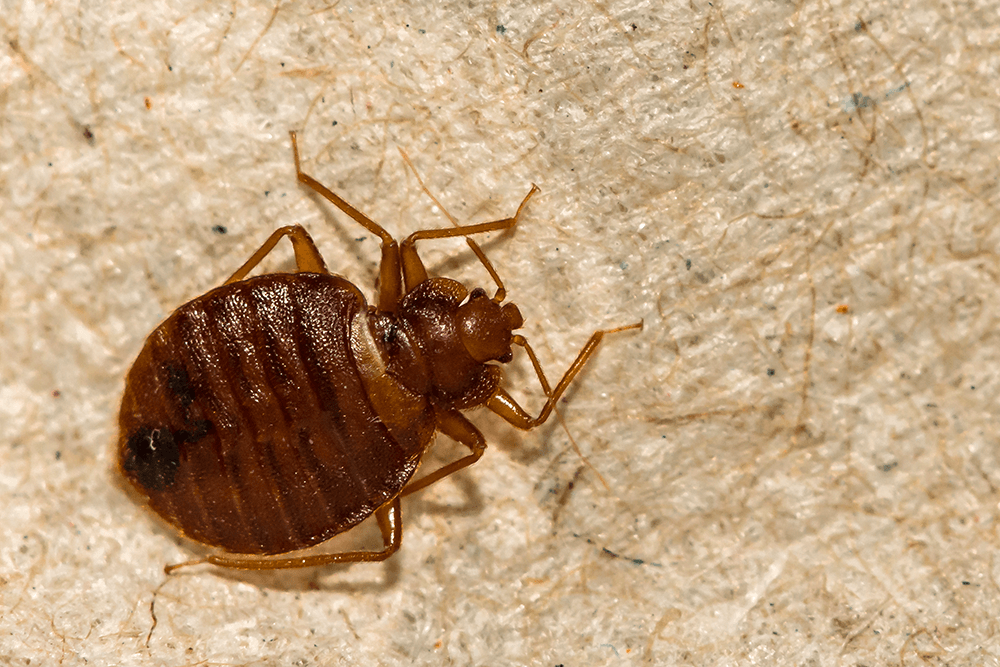 Where Bed Bugs Come From
Bed bugs are very good at travelling, and they usually latch onto something with a fabric surface to get around. This can be anything from luggage, purses, and backpacks to used furniture.
Bed bugs are also able to travel between rooms in places like apartment complexes, hotels, and multi-unit buildings. This means that bed bugs can make their way into almost any home after something as common as a family vacation or the purchase of some used furniture online.
Where Bed Bugs Hide
Bed bugs hide in a number of unusual places. If you think you might have a bed bug infestation, you'll want to check:
The edges of electrical outlets
The seams of chairs and couches
Between cushions
In the folds of curtains
Spaces where walls and ceilings meet
On and under box springs
Any other small crack around the home
What to Do If You Have Bed Bugs
If you have bed bugs, you are sure to find plenty of DIY bed bug removal solutions online that will tell you that you can get rid of bed bugs all on your own. But the truth is, bed bugs are a persistent pest, and many DIY solutions will ultimately not solve your bed bug problem in the long-term. To really take care of bed bugs for good, it's best to contact a professional bed bug exterminator in Charlotte, NC.
Charlotte, NC is one of the top cities in the United States for bed bug infestations. City Wide Exterminating is leading the way in affordable exterminating and treatment. How? We make it hot. Really hot.
Bed bug heat treatments essentially turn your home into one large oven. Before treatment starts, homeowners are required to remove any special or delicate belongings, and during treatment, homeowners and pets need to leave the home. Heating units are placed throughout your home by one of our specialists, and then we turn up the heat.
We're so confident in our service that our whole-home bed bug treatments are backed by a 30-day guarantee!
Are Bed Bugs Only Found in Beds?
Because of their name, most people assume that bed bugs are usually found in beds and feed on their victims as they sleep. But the reality is that bed bugs can strike at any time, from a variety of hiding places throughout your home.
These pests love to nest in all kinds of upholstery and have even been known to hide in the wooden furniture or structures near your favorite resting places.
Bed bugs also love to nest in:
Couches and sofas
Upholstered chairs and benches
Cushions and pillows
Under loose wallpaper, wall hangings, or curtains
Door jams and drawer joints
Inside appliances
Modern, Highly Effective Bed Bug Solutions
Store-bought bed bug solutions are few and far between, and the ones that are available aren't always reliable. With professional bed bug treatment from City Wide Exterminating, getting rid of bed bugs has never been easier.
Our Charlotte bed bug control experts use only the best professional-grade products available to thoroughly treat your home. We don't just get rid of bed bugs – we help you make sure they don't come back.
---
Stop letting bed bugs eat away at your family – call City Wide Exterminating at (704) 850-6091 or reach out to us online for service in Mecklenburg County, Concord, Locust, Mooresville, or any of the surrounding areas!
---
Related Reading
"My mom started using City Wide over 20 years ago so when we bought a house, they came just to do a sort of maintenance to keep bugs from coming. We have never had an issue and City Wide is a big part of that."