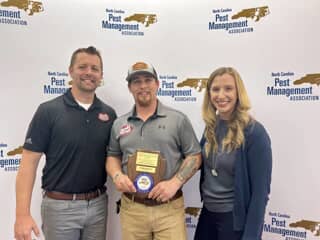 Locust, NC — City Wide Exterminating is proud to announce that Adam Hartsell, Service Supervisor, has completed the Premier Technician program through the North Carolina Pest Management Association (NCPMA). Adam, along with two others in the pest management industry, graduated from the two year program on March 30, 2023.
"Adam began this journey in 2021 and is now one of less than thirty people in our state with this esteemed designation, states Dylan Morrison, Manager of City Wide Exterminating. Morrison adds, "We are incredibly proud of the commitment Adam showed throughout this program. Adam is a natural leader and this in-depth training equips him with even more technical knowledge to lead his team everyday."
The Premier Technician program is a course designed to expand and elevate eight key areas in the pest management industry such as ants, bed bugs, cockroaches, flying insects, occasional invaders/stored product pests, rodents, wood-boring inspection or WDIR Accreditation and wood-destroying organisms. Through a series of hands-on courses, participants discover a deeper understanding of pest issues along with problem-solving and the most up-to-date treatment strategies. In order to maintain the Premier Technician designation, graduates must continue to take at least one, 8-hour course every two years. To read more about NCPMA or the Premier Technician program, visit https://www.ncpestmanagement.org/ptp.